Palestinian startup looks for more support in Silicon Valley
April 4, 2014

Posted by:

ziad ziadeh

Category:

Blog
At the Qalandia crossing point between Israel and the West Bank city of Ramallah, billboards advertise Palestinian mobile companies. If Palestinian entrepreneurs have anything to do with it, more of these signs advertising their local companies will soon join them.
This week, Palestinian entrepreneurs launched eZone, the first Palestinian mini-tech park. The park is meant as a hub for technology entrepreneurs – to provide them a space to learn, network and obtain resources.
"With 400 million Arabic language speakers and 80 million users in the Arab world, we see Palestine becoming the start-up nation of the Arab world in the near future," said Leaders director Shadi Atshan.
"Leaders", an organization which offers support for new companies, aims to create Palestinian business opportunities and help entrepreneurs start companies as a way of helping to build the infrastructure for a Palestinian state.
"That's the end ticket – a Palestinian state," US Consul General Michael Ratney told the businessmen. The senior American official said he attended to push the idea that encouraging young Palestinians to start businesses was important.
At least 30 Palestinian companies pitched their ideas to the "Leaders'" business accelerator "FastForward" earlier this year. Four start-up companies received $20,000 and a trip later this month to northern California's Silicon Valley to study entrepreneurship up-close.
"I'm feeling like the best of the best," said Amr Tamimi, partner and head of engineering at "Feekash" (in Arabic "there is cash"). A cash payment network, it enables online merchants to accept cash from their customers.
"San Francisco is the center of the start-up world," said Abed Hathout, Co-Founder & CEO of "Indie Push".
His company gives independent artists worldwide a way to distribute their music to their fans through an online platform the company is developing. He told The Media Line that he and his colleagues are looking forward to California.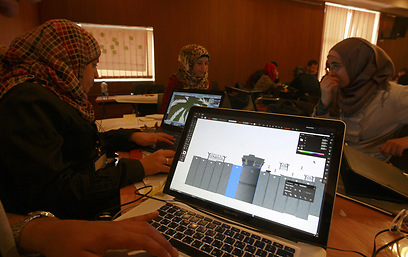 "Experience, experience, experience. Knowledge, knowledge, knowledge. Just being there, you can catch the vibe of being in a real start-up," said Hathout, also a musician.
"Leaders" also hopes the trip to California will help these start-ups get more funding.
"Our goal is to get them a second round of funding, so they can go about their business and employee Palestinians," Peter Abu Al Zalof, a project manager at "Leaders" told The Media Line.
They will take different teams to Silicon Valley throughout the year.
"One is to get (a lot of) exposure to Silicon Valley. They're the number one start-up area in the world," Abu Al Zolof said. The other goal is to get them to meet investors and entrepreneurs.
Palestinian startups face some unique difficulties.
When it comes to restraints, he says, Israel puts limits on freedom of movement. Palestinians need permits to travel to Jerusalem, and even getting from one Palestinian city like Bethlehem to another like Ramallah can take hours.
The Israeli-Palestinian conflict also takes a toll and Al-Zolof says that getting outside investors is a challenge. Israel has also refused to supply enough bandwidth for Palestinians to have a 3G network, a necessity for fast communication. Israel says Palestinians can use existing Israeli cell phone frequencies.
Rasha Ali, the co-founder and CEO of "Feekash", says there are many challenges ahead.
"It's very hard for any Palestinian to move to another market due to a lot of challenges," Ali said. "We are always looked at as refugees that want to move to other places. It's hard to convince other governments that we're here to do business."
Palestinian officials say they see projects like eZone as helping to build both the Palestinian economy and the Palestinian state.
"There are a large number of small companies that can't do it alone," said deputy Prime Minister Mohammad Mustafa. "An environment needs to be created, where people can come together and work together. More efficiency is needed to take us to the place that we deserve.
Mustafa says that the IT sector contributes up to 6 percent of Palestine's GDP. Initiatives have already created thousands of jobs which he hopes will multiply. He also said he hopes the Palestinian private sector can attract just 10 or 15 of the 250 multinational companies that already operate in Israel.
Leaders launched eZone with support from the US government as well as other organizations including the OPEC Fund for International Development.
"I think it's extraordinarily important that American entrepreneurs and other entrepreneurs that come from all over the world to Silicon Valley see Palestinians and meet Palestinians and see that they are part of the same community that Americans are part of," US Consul General in Jerusalem, Michael Ratney told the guests.
He said that Palestinians have an entrepreneurial spirit.
"Young Palestinian entrepreneurs share that same spirit that Europeans, Asians, Africans that all come together (to Silicon Valley) with that same spirit of building businesses from the ground up."
USAID Mission Director David Harden says the funding is coming to the West Bank and Gaza Strip and along with it, the opportunities are growing.
"We're getting ready for the next Maktoob and when it comes, everything is going to change," he told The Media Line after the launch.
Maktoob is an Arab Internet services company that was founded in Amman, Jordan. It's also known for being the first Arabic/English email service provider.
"The basis of a healthy Palestinian economy is a private sector, it's a business community, it's people investing, young Palestinians building and starting their own businesses – that's the basis of a sustainable, healthy long term Palestinian economy and the basis of a healthy Palestinian state," Consul General Ratney told The Media Line.
Article written by: Abdullah H. Erakat